Chances are you have seen the new Moto Z commercial with young people with colorful hair and lips, saying, "Hello Moto" in a hard to trace accent. Well, you've probably also noticed the cool thing that magnetically attaches to the back Moto Z and has a 10x optical zoom- that thing is the Hasselblad True Zoom camera and it's available at BHPhoto.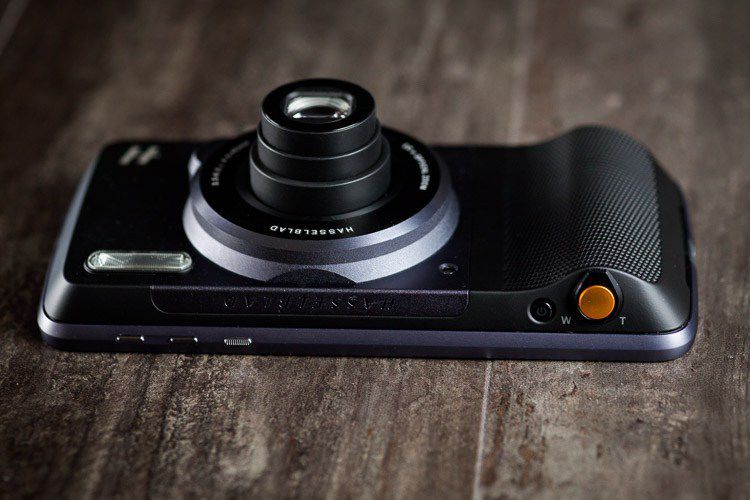 Why You Want It...
Smartphone cameras are getting better, but they still have their flaws and don't produce the quality of DSLRs or even a point-and-shoot camera. The Hasselblad True Zoom Camera for Motorola Z smartphones uses an electronic connection for data transmission and power. It dramatically takes your photography game to the next level. Featuring a 12MP 1/2.3" BSI CMOS sensor with a sensitivity range of up to ISO 320, 10x optical zoom, f/3.5-6.5 aperture, and electronic image stabilization, this camera takes your phone's photography capabilities beyond almost every smartphone. The Hasselblad attachment even has a physical shutter release, a zoom lever, and an integrated Xenon flash to illuminate low-light scenes.
One of the worst parts about using a smartphone to take a photo outdoors is the zoom. Imagine you have just hiked a really high mountain or you're at the beach at sunset. You want to capture something in the distance, and using your phone with this revolutionary attachment will create a grainy, image that doesn't do your surroundings justice. Or, you're trying to capture the magnetic, lavenders, bright oranges, and golds of a fading sunset, but your phone's flash produces a terrible, overexposed image that doesn't edit will within your phone's built-in editor. For moments when you can't get close enough to an incredible site or when you want to capture the colors of a beautiful vista, the Hasselblad is a must have.
But what's even cooler about this attachment is that allows you to edit, transfer and share your images and videos over Wi-Fi or cellular connections. Now you can easily record the geographical location where you shot a photo or a video with no extra effort.
Sure the Hasselblad True Zoom is pricey, but for people who love photos and for creative professionals who produce micro or short-form content for brands, this attachment makes producing winning social media content a lot faster and easier. Plus, it doesn't require to lug any additional equipment.
Not sure if the Hasselblad attachment is right for you? Reach out to one of the photography experts at BH Photo.